There's never been a better time to exhibit at Oman's Premium Energy Industry Show

H.E. Mohammed bin Abdullah bin Essa Al Harthy, Oman's Minister of Transport and Communications
inaugurated the Oil & Gas West Asia 2004 Exhibition in Muscat. In his welcome address H. E. stated
"The growing sophistication of our transport, energy, power and other service industries requires
that Oman stages professional trade exhibitions such as the Oil & Gas West Asia.
Such shows are recognized worldwide as the best means to introduce new products and systems,
to enable specifiers and suppliers to network – and for us all to showcase just what Oman can do"
Oil the potential sector
Like other GCC states, the buoyancy in oil prices helped Oman's economy to withstand the shock from a decline in production in the last couple of years. A fall in government revenue was offset by a firm trend in oil prices. When the oil major Petroleum Development Oman's (PDO) production started declining a couple of years ago, the government responded quickly to limit the impact on this vital sector.

Oil production has been falling fast mainly due to the increasing number of matured fields, which became a major challenge for the government as well as the PDO. The premier oil company, which accounts for 90 per cent of the country's oil and natural gas production, acted promptly by charting a five-year road map to recovery, which was designed to take the company's daily production to around 800,000 barrels a day (BDP) by 2008 from nearly 703,000 BPD in 2003.

To boost production, PDO will be investing $2 billion for five years in four different areas – development of existing oil wells, drilling new wells, increasing production through enhanced oil recovery (EOR) and water flooding technique.

Middle East Region
According to industry analyst - Oil majors in the Middle East region need to pump in nearly $100 billion into their hydrocarbon sector in the next five years to expand their production capacity of oil and gas.

This expansion is essential to meet the expected growth in world oil demand, which is forecast to rise by around 45 million barrels per day (bpd) to over 120 million bpd by 2025.

The world's five leading oil powers – Saudi Arabia, the United Arab Emirates (UAE), Kuwait, Iran and Iraq – will have to pump an average $18-$20 billion a year into expansion projects to more than double their output to around 42 million bpd by 2020.
Current Approved Projects in Oman

Among the major projects that are in different stages of planning and implementation, progress has been made by the government to set up -
8$543 million-third liquefaction train to the present two-train 6.6 million-tonne facility of Oman LNG. When completed in early 2006, the combined capacity of the three-train facility will be boosted to around 10 million tonnes, making it one of the largest LNG plants in the world.

8Petroleum Development Oman's (PDO) $120 million-gas treatment plant at Saih Nihayda is expected to pump in natural gas by November 2004.

8Similarly, the construction of a 48-inch underground-gas pipeline between Saih Nihayda and Sur is also progressing. The 265-km-long pipeline, which will be ready by 2005, will transport natural gas to meet the additional requirements of the proposed third LNG train that is coming up at Qalhat near Sur.

8Apart from Oman LNG's third train and the upstream ventures, the prestigious Oman Indian Fertiliser project with a capital expenditure of $969 million has reached the implementation stage. The company, which is expected to start commercial production by early 2006, will produce 1.65 million tonnes of granulated urea and 0.25 million tonnes of surplus ammonia per annum.

8Yet another venture that reached the stage of implementation is the $1.2 billion-Sohar Refinery, due to be commissioned in 2006. The refinery located in Sohar Industrial Zone will have a crude unit with a capacity of 116,400 barrels per day and a residue fluid catalytic cracking unit with a 75,260 bpd capacity. The $200 million-Oman Polypropylene project, which will have an installed capacity of 340,000 tonne-per annum, has also reached the stage of implementation recently.

8Sohar International Urea and Chemical Industries is another gas-based venture promoted by private entrepreneurs. The promoters of the project, involving $600 million, have formed the company last year and are in the process of achieving financial closure.

8Oman Methanol & Derivatives has also made headway in implementing the project. The proposed venture, with an installed capacity of around 1.75 million tonnes of methanol a year, would be the largest plant of its type in the world.

8Besides, the government is trying to implement the 530,000-tonne aluminium smelter unit with the support of Abu Dhabi Water and Electricity Authority.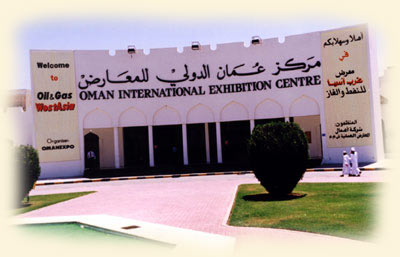 Oman is a major oil and gas producing nation - but it is also well-established as an important tourism centre for the discerning international traveller. Quality hotels, with both five and four star ratings, abound. Many are in beautiful mountain/seaside locations near the heart of the capital Muscat.

International banking, trading and financial infrastructure, reflects Oman's membership in the WTO.
The Oman International Exhibition Centre (OIEC) in Muscat, Oman, is a purpose-built hall that offers a centrally air-conditioned hall and display area with almost 12,000 square metres of gross space.

The hall is fully serviced, and is administered by the Oman Government. It includes cafeteria, toilets, meeting rooms and extensive storage areas for exhibitor freight, with special freight doors and loading bays for constant exhibitor access. There is parking on-site for over 3,000 vehicles.

The OIEC is just five minutes drive from Oman's Seeb International Airport, and 30 minutes from the principal business districts of Ruwi, Wattayah and Muttrah. During the exhibition, the exhibitor bus service links the leading hotels with the center during the exhibition, and also operates for conference delegates between the Grand Hyatt Hotel and the OIEC



The Omanexpo team comprises individuals with a wide range of corporate and professional background. This experience and knowledge enables us to provide our clients optimum access to the diverse audiences, communities and markets.

Our professionals have strong educational background and communication skills, coupled with varied experiences in exhibitions, event management, public relations, advertising and marketing services.

These professionals are vital in ensuring the success of a close partnership between our clients and us. The calibre of our staff reflects the professionalism we offer clients in every facet of our services. Organised into task forces directed by professionals, it is our responsibility to marshal resources in implementing the communication and marketing services strategy.
This website is best viewed at 800 x 600 pixels with Internet Explorer
Copyright ©2001 - UMS Internet Cell. All rights reserved.